A Woman's Journey Towards Claiming Her Right to Life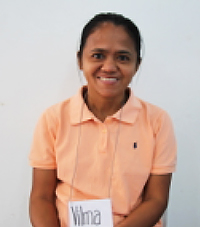 Full Name: Vilma Urtula
Country: Phillippines
Location: Manila
Batch No.: Pilot, Batch 2
Date Trained: 18 - 20 January 2017
Disability: Orthopedic disability due to polio
Business: Sells perfume, dishwashing liquid, fabric conditioner
Average Monthly Income Before: PHP 300
Average Monthly Income After: PHP 6,000
Growing up in a community where being different is frowned upon, Vilma struggled to find her voice. She grew up at the receiving end of insults and getting teased for a disability condition that she did not even ask for to begin with. Life has deprived her of the many opportunities – education, employment, basic social services - that she could have enjoyed had she not suffered from polio at a young age. It also did not help that she and her eight siblings, two of them with mental disability, had to worry about basic necessities like putting food on their table every single day. This was how Vilma viewed life – a day-to-day struggle that she had no control over.
All these were evident when Vilma first attended the Maybank R.I.S.E. training. She quietly sat in one corner, flashing a seemingly embarrassed smile when asked to share her thoughts. But despite this apparent show of lack of self-esteem, her eyes expressed eagerness and willingness to learn. Although she would hide her coursebook and her answers when approached, she would also listen intently to the advice and encouraging words of the speakers.
Come first mentoring, everyone, including her, was surprised when she finally gathered enough strength to speak up. She quietly raised her hand in a very Vilma-like manner and started sharing about how she managed to raise her income from peddling homecare and beauty products after a few weeks. There was a sudden sense of pride and accomplishment when everyone applauded, while she shared how she was able to raise her income and save up to support herself and her siblings. Her words enabled her fellow PWDs, even their NGO leaders, to believe that it was indeed possible to succeed if they would exert time, effort and hardwork to their business.
From not being able to afford 3 meals a day, worrying if they had something to eat on a daily basis was no longer a concern, because Vilma could now provide food on her table. She was now able to eat healthier food such as vegetables and fish, which are both considered pricy, where she comes from. As a PWD who used to be quiet and unaware of her potential, she was now leading her family towards a more comfortable life. She was able to provide for her dad who was mentally ill and pay for his lab tests and now sponsors all of his medication costs. She stepped up in a way that she could not have even imagined before. She also financially supported one of her siblings who contracted pneumonia, by paying all of his medical bills until he eventually recovered. Her other siblings, even the able-bodied ones, started seeing her as an inspiration and a role model. She ignited a desire in them to also want to succeed in life.
The increase in her income has also enabled her to provide for the medication and needs of her mentally ill brothers as well, giving them new-found hope and a chance to live a normal life. Being a PWD herself, she knew how difficult it was to be accepted by society. And as a sister, she wanted her siblings to feel cared for, accepted and loved by the family. Being the genuine and kind hearted person that she is, she also offered to pay for her friend's parent's medical fees. Besides that, she also helped one of her friends to start a business in the same field as hers.
Moreover, she could now provide social protection for herself which included retirement and health benefits. She became more proactive in allotting funds for social security, and has never missed a contribution since she started earning from her new business. She is also working towards achieving her goal of getting a comfortable house for her family. Most importantly, Vilma was able to find her voice. She found her strength, and dignity that may have been there along, waiting to be discovered by her at the right time. Life still is a struggle, but it is a struggle that she has control over. She realized that she is capable of having a say on her own life, and that no disability could hinder her and her family from claiming their rights - to basic social services, healthcare, and ultimately their right to live their lives with basic needs and necessities taken care of. She is extremely grateful to Maybank and Maybank Foundation, for the opportunity given to her to take a step out of her difficulties, and into a brighter future.