Rising Up from Failure and Inspiring Others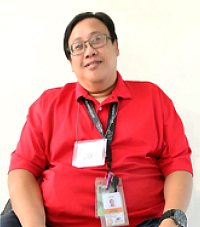 Full Name: Napoleon Castillon
Country: Phillippines
Location: Manila
Batch No.: Pilot, Batch 2
Date Trained: 18 - 20 January 2017
Disability: Disability due to polio (wheelchair user)
Business: Food Supplement
Average Monthly Income Before: PHP 0
Average Monthly Income After: PHP 35,370
Spock is married and has 5 children. As if being a wheelchair user is not enough of a challenge for his family, one of his children also has kidney problems. His daughter needed to get a dialysis several times a month, and it was a challenge for their family ever since the her kidney problems and diagnosis was confirmed. Going through dialysis was very expensive and he used to borrow money from his siblings and relatives as he and his wife couldn't bear the costs from what they used to earn. He even resorted to pawning valuable items so that his daughter could get the help she needed. These challenges pushed him to the point of depression.
To get out of his situation, Spock tried several businesses in hopes of increasing his income to support his family's needs. But due to his lack of knowledge in managing a business and lack of motivation and fear due to several past failures, he didn't succeed. He was struggling and was stuck with the idea that in order to start a successful business, he would need a large amount of capital. After attending the Maybank R.I.S.E programme, he understood the importance of focusing on one business and building that business strategically. He started to focus on his direct selling business. It was difficult for him at first, since were a lot of strong competitors, but he had faith in the products that he was selling and managed to get a lot of customers. He also used his strength in communicating combined with the strategies taught at the R.I.S.E programme to win different kinds of customers. He realized that big capital wasn't the answer to a successful business, but being strategic and working hard. Using one of the sales strategies taught, networking, he used his network to further promote his products and saw revenues grow even further. After the R.I.S.E. programme, he began to be more motivated to stay focused and build his business strategically. He decided to give it his all.
As his income kept steadily growing, he was now able to contribute to his daughter's medical bills without any worry of lack. Aside from helping his family, Spock also sees to it that's he's able to help his fellow PWDs. He hires PWDs, mostly students, as his personal assistants to help him with his business. He chose to hire PWDs who are students so they can support themselves while they are studying. During school days, he also hires non-PWDs from marginalized groups who are also in need of extra income. This gives him a sense of fulfilment as he is able to help other people despite his own disability.
Since he has overcome his challenges, he decided to help other people in his community to start businesses as well. He shared his story to other people and also made use of his daughter's testimony to convince them that its important to never give up, in order to succeed. He regularly talks to others about what he learnt from the Maybank R.I.S.E programme and tries to get others motivated to change their state. He shared the benefits of the products that he is selling to other people so they too can start a direct selling business. He also coaches and mentors people, including those able bodied, on how to interact with their customers and grow their business.
According to Spock, the Maybank RISE programme helped him to forget his dark past and instead, to look forward to his bright future. Above all, Spock takes pride in being able to provide for his daughter and feels like he has earned the title of being the head of the family. His gratitude towards Maybank is immense and he never forgets the lessons he learnt from the R.I.S.E programme, and now also looks towards helping others in need around him with what he has learnt.