01
Governance and Leadership
Tan Sri Dato' Sri Zamzamzairani Mohd Isa

Non-Independent Non-Executive Director/Chairman

Tan Sri Dato' Sri Zamzamzairani Mohd Isa was appointed as a Non-Independent Non-Executive Director and Chairman of Maybank on 2 November 2020.

Tan Sri Dato' Sri Zamzamzairani holds a Bachelor of Science in Communications Engineering from Plymouth Polytechnic, United Kingdom and has completed the Corporate Finance, Strategies for Creating Shareholder Value programme at Kellogg School of Management, Northwestern University, United States of America. He has also attended the Strategic Leadership Programme at the University of Oxford's Saïd Business School and the IMD CEO Roundtable at Lausanne, Switzerland in 2013.

He has vast experience spanning more than 30 years in the telecommunication industry, beginning in Telekom Malaysia Berhad ("TM") where he served for 13 years before assuming key positions in several multinationals such as Global One Communications and Lucent Technologies (Malaysia) Sdn Bhd, where he was Chief Executive Officer ("CEO"). He returned to TM in 2005 as Senior Vice President, Group Strategy and Technology and was later promoted to CEO, Malaysia Business, before being appointed as the Group CEO and Managing Director in April 2008 until his retirement on 30 April 2017.

Under his leadership, TM launched and successfully rolled out the high speed broadband service in 2010, in a historic collaboration with the Government of Malaysia. He was awarded the Business Person of the Year 2015 at the Asian Academy of Management International Conference, organised by Universiti Sains Malaysia in October 2015. He was also named CEO of the Year 2015 at the Minority Shareholder Watchdog Group's Annual Corporate Governance Awards ceremony held in December 2015. He was conferred a special individual award for 'Outstanding Contribution to the Industry' at the 2017 Frost & Sullivan Malaysia Excellence Awards and named the prestigious Telecom CEO of the Year at the 20th Telecom Asia Awards 2017.

Currently, Tan Sri Dato' Sri Zamzamzairani also sits on the board of Malaysia Airlines Berhad, Malaysia Aviation Group Berhad ("MAGB") and Hijrah Biru Sdn Bhd (a subsidiary of MAGB).

Dato' V. Danapalan

Trustee

Dato' V. Danapalan has an exemplary public service record, having held the positions of Deputy Director of National Institute of Public Administration (INTAN), Deputy Secretary General of the Ministry of Social and Community Development, Secretary General of the Ministry of Science, Technology and the Environment, Senior Vice President of Multimedia Development Corporation (MDC), and Chairman and CEO of Malaysian Communication and Multimedia Commission (MCMC).

Datin Paduka Marina Mahathir

Trustee

Datin Paduka Marina Mahathir is known to wear many hats — newspaper columnist, women's rights and HIV/AIDS activist and TV producer. During the 100th anniversary of International Women's Day in 2011, Datin Paduka Marina was one of only two Malaysian women listed under the 100 Most Inspiring People Delivering for Girls and Women by womendeliver.org.

Recently she was awarded the Chevalier de la Légiond'Honneur, the highest decoration awarded by the French government. Only 8 Malaysians have received this honour.

Ibu Budhi Dyah Sitawati

Trustee

Indonesian citizen. Independent Commissioner of PT Bank Maybank Indonesia Tbk since 27 August 2010 (received BI approval on 1 April 2011). Her carrier began as Auditor at Public Accountant Firm (KAP) Drs. Utomo & Co. (SGV/Arthur Andersen) (1982-1984). She continued as an auditor at Price Waterhouse Sydney, Australia and then at Price Waterhouse Jakarta/KAP Drs Hadi Sutanto & Rekan (1986-1989). Then she changed to tax consultancy and became Tax Partner at PricewaterhouseCoopers (PwC) Indonesia (1989-2005). She was an advisor to the Special Committee on Taxation Act, the Commission XI - House of Representatives of Indonesia (2006-2009), then Lecturer in MAKSI/ PPAK-Faculty of Economics, University of Indonesia since 2007. Currently she serves a Technical Advisor of PT Prima Wahana Caraka (PwC-Tax, Indonesia) since 2010. She earned her degree in Economics from the University of Indonesia in 1984.

Shahril Azuar Jimin

Chief Sustainability Officer, Maybank & Co – Principal Officer, Maybank Labuan Foundation.

Shahril Azuar Jimin was appointed as Maybank's first Chief Sustainability Officer (CSO) on 1 March 2021.

He leads Maybank Group's effort on Sustainability which focuses on environmental, social and governance (ESG). As the CSO, Shahril provides leadership to design, align and integrate sustainability initiatives, policies and goals to help drive the sustainability agenda for the Maybank Group.

Prior to his appointment as CSO, Shahril has held various leadership positions across Maybank Group including being the first CEO of Maybank Foundation from 2014 to 2021. From 2012 - 2014 Shahril was the Chief Commercial Officer of Maybank Ageas Holdings Berhad which represents the insurance business of Maybank. Before that he was the Chief Sales Officer of Etiqa Insurance & Takaful from 2008 until 2012. Concurrently from 2010-2012, Shahril held the post of Chief Executive Officer of Etiqa Takaful Berhad, and was Chairman of the Global Takaful Group from 2012 – 2014.

Shahril has an LL.B (Hons) from Staffordshire University, and is a graduate of the Global Senior Management Program from the University of Chicago's Booth School of Business. Shahril has also completed University of Oxford's Leading Sustainable Corporations Programme, and also University of Cambridge's Sustainable Finance Programme.

Pursuant to Maybank's advocacy for greater ESG best practices in corporations, Shahril is a Council Member of the 30% Club Malaysia, which seeks to promote inclusive practices in diversity, equity and inclusion in organizations. Shahril also chairs the Association of Banks in Malaysia's (ABM) ESG Committee since 2022.

Izlyn Ramli

Head, Group Corporate Affairs, Maybank & CEO, Maybank Foundation

Effective 11 January 2023, Maybank has appointed Izlyn Ramli as the new Head of Group Corporate Affairs and the Chief Executive Officer (CEO) of Maybank Foundation, reporting to the GPCEO and Chief Sustainability Officer (CSO) respectively.

As the CEO of Maybank Foundation, Izlyn is tasked to lead, innovate and further expand Maybank Foundation as a purpose-driven organisation, spearheading the Group's regional social impact and Corporate Responsibility efforts. Under the Group Sustainability, GPCEO's Office, Maybank Foundation will further the Group's sustainability agenda, especially playing a more profound role in achieving the Group's aspired M25+ targets.

In doing so, Izlyn will be appointed as the Co-Principal Officer of Maybank Labuan Foundation (MLF). MLF is the vehicle for Maybank Foundation's programme implementation outside of Malaysia. Her appointment is to ensure the alignment of all CR initiatives with the Maybank Group and Maybank Foundation's CR Framework & Roadmap, in line with Maybank's mission of humanising financial service.

Most recently, Izlyn was the Director of Yayasan Telekom Malaysia (YTM), responsible for its transformation into a social impact foundation with an expanded scope focused on three strengthened pillars: education, community and nation-building, and tourism, culture and heritage. As Director of YTM, she was also the joint secretariat together with Yayasan Hasanah for "GLCs/GLICs Demi Rakyat dan Negara" (GDRN), a coordinated and collaborative platform that helps optimise members' efforts and aid for greater social impact, while adhering to respective organisations' governance and policies.

Prior to that, Izlyn was the Vice President of Group Brand and Communication, as part of TM's Management Committee and Group Leadership Team, and sat on several other key TM managerial committees and co-chaired the Service Management Council. She was also a Board Director for Telekom Sales and Services Sdn Bhd (TSSSB) and sat on the Board of Trustees for Yayasan TM (YTM). She first joined TM in 1998, with 10 years in Group Strategy.

Izlyn additionally has regional experience during her time in Axiata Group Bhd with its international holdings, which included policy work focused on Information and Communications Technology. She started her career in 1992 at PrincewaterhouseCoopers before moving to BzW Capital as an investment analyst.

She received her education in the United Kingdom and holds a Masters in Business Administration (Distinction) from City University (Cass) Business School, London, specialising in Strategic Management of Technology and E-Business and a Bachelor of Science (Hons) in Economics from University College London.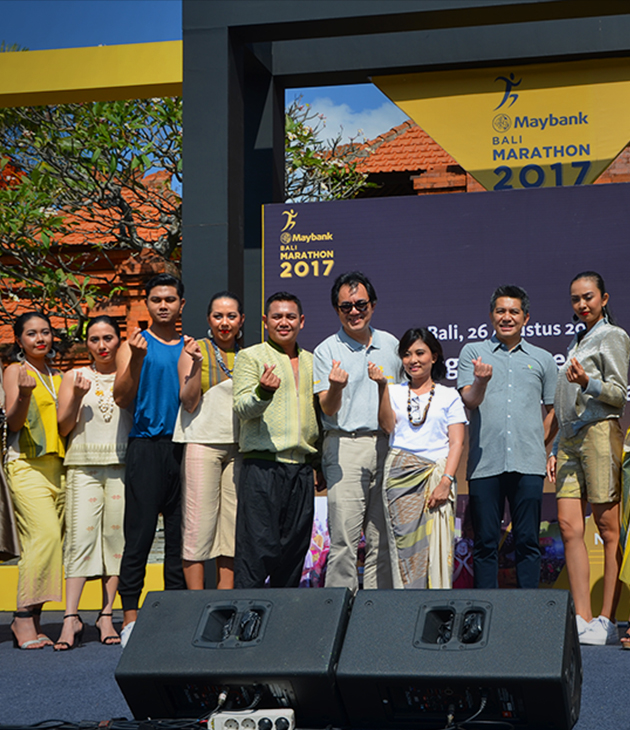 In 2010, in conjunction with the MAYBANK GROUP'S 50th anniversary, Maybank Foundation was inaugurated as the main vehicle for corporate responsibility across MAYBANK GROUP.
The Foundation's mandate is to create positive, long-term impact in communities in the markets where Maybank operates. It strives to identify programmes that will have the most tangible and sustainable results.
The focus of the Foundation is to enhance quality of life for all, irrespective of race, gender, or creed with an emphasis on the poor and marginalised. This is done through strategic partnerships with local stakeholders and NGOs. In all six areas, namely Education, Community Empowerment, Arts and Culture, Environmental Diversity, Healthy Living, and Disaster Relief, and in every country, we focus our activities and our funding on creating meaningful, measurable, and sustainable impacts that differentiate us from our competitors and complement our long-term aspiration to humanise financial services.
Through strategic partnerships with local stakeholders and NGOs, the Foundation's focus is to enhance quality of life for all, especially the less fortunate, irrespective of race, gender, or creed and to deliver long-term value for the environment by being the region's most impactful corporate citizen.
Maybank Foundation's predecessor, Tabung Kebajikan Kumpulan Maybank (TKKM), was a trust fund set up in 1990 in order to provide medical assistance and social welfare support to the community. Over the years, it grew to include sustainable economic and community development, arts and culture, and environmental conservation.
Six flagship programmes and numerous others were developed based on Maybank Foundation's new strategic direction. The programmes have been designed to be regional, scalable and target driven. They will be tracked systematically to provide evidence on the long-term results.
The focus is to expand our impact across the region where Maybank operates, touching lives wherever we can to empower communities to build a better future, both for present and future generations.
03
Maybank Labuan Foundation
Maybank Labuan Foundation was incepted in September 2015 as a vehicle for Maybank Group's corporate responsibility regionally including Labuan. As a registered foundation under Labuan Foundation Act 2010 (Act 706), Maybank Labuan Foundation is governed by the Labuan Financial Services Authority (LFSA).
Maybank Labuan Foundation's purpose is to facilitate the execution and funding for Maybank Group's CSR programmes regionally which is aligned with the Group's aspiration to positively impact communities through sustainable programmes.
The Foundation focuses on programmes aimed to elevate and enhance quality of life and improve the wellbeing of the local community. The Foundation also aspires to promote financial inclusion in communities where the Group serves.