Cahaya Kasih - Maybank Volunteerism Programme
Our flagship volunteering programme encourages Maybank employees to come together as agents of change. Through Cahaya Kasih, Maybankers are in the heart of their communities - and put their heart into everything they do.
Maybank Foundation's flagship employee volunteerism programme CAHAYA KASIH (CK), encourages Maybankers to come together as agents of change in making positive and long-lasting impact in the communities we serve.
Since its launch in 2006, Cahaya Kasih has grown to be a major regional volunteer programme. The evolution of Cahaya Kasih is a result of years of internal learning.
Employees are given the option to choose a cause or project that is consistent with the pillars of Maybank Foundation and that supports a long-term relationship with all stakeholders. We are confident that by fostering a stronger bond with our communities, we will achieve the lasting changes desired.
Maybank's Global CR Day is believed to be the largest single community programme undertaken simultaneously in one day, by a Malaysian-based corporation on a global scale.
Maybank's Global CR Day is a one-day showcase of our year-long reinforcement of Maybank's mission of humanising financial services and our commitment to be at the heart of the community sustainably. This unique event involves employees not only in Malaysia but also its offices abroad – from New York and London to Greater China and across ASEAN – coming together to reaffirm our commitment to social and community development.

The Evolution of Cahaya Kasih Employee Volunteerism Programme 2012/2017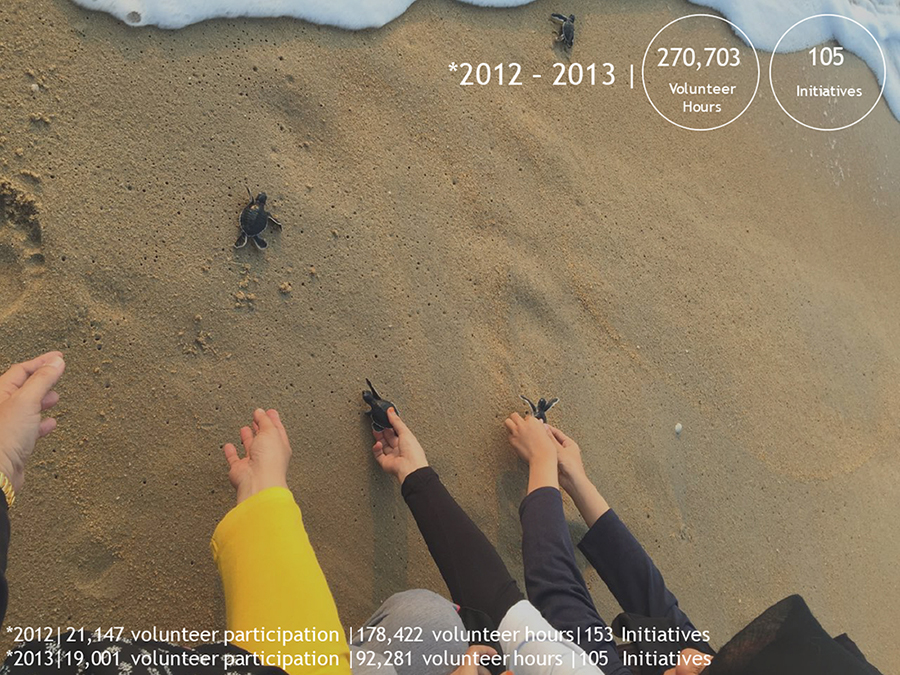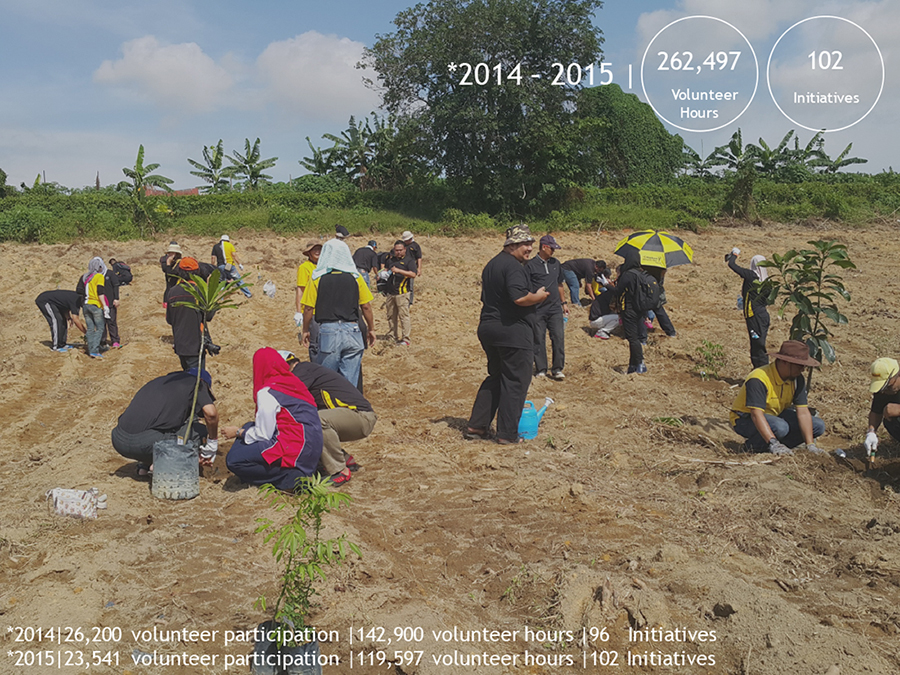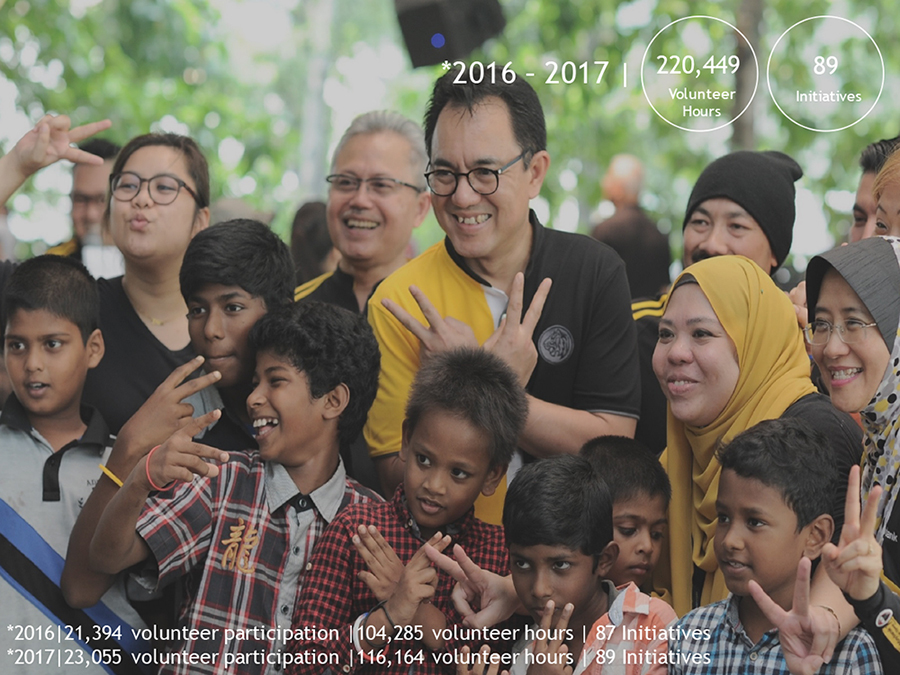 Our Cahaya Kasih Challenge (CKC) 2018/2019
COMING SOON!
#MaybankCares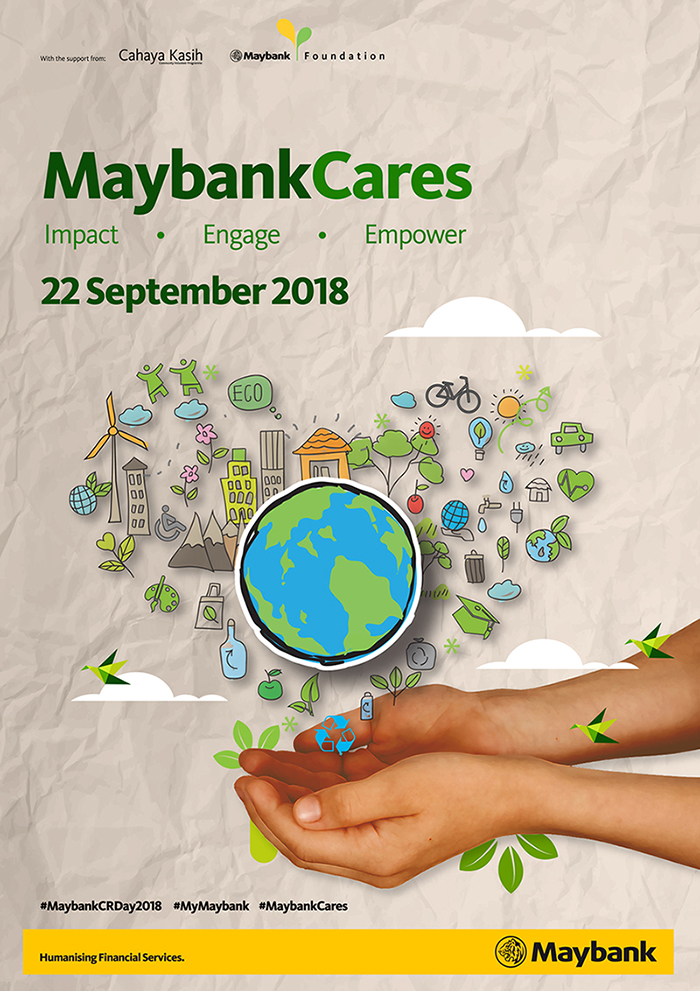 The Cahaya Kasih Stories of 2016/2017
MAYBANK GROUP RISK's Community Garden Project: The River of Life, People Outreach Programme (ROLPOP)
The Klang River basin, covering the municipal areas of Majlis Perbandaran Selayang (MPS), Majlis Perbandaran Ampang Jaya (MPAJ) and Dewan Bandaraya Kuala Lumpur (DBKL) was always an important source of water for the community nearby. It is easy to forget how important the rivers are to us as we get caught up with our everyday life. Despite the existence of environmental laws to protect our rivers, garbage and other forms of waste are found in our waterways. According to the Drainage & Irrigation Department (DID) of Malaysia, an estimated 50 to 60 tonnes of waste end up in the river system daily in Klang Valley alone.
Realising this, Maybank's Group Risk division embarked on a journey into the beautification of AU2 Taman Keramat River Banks via their 'Community Garden project', which is a public outreach programme. The initiative has led to the improvement of water quality and the reduction of pollution within the nearby river bank area. River cleaning activities were conducted by our colleagues and the nearby communities, as the initiative had inspired them to be part of the monthly volunteerism activities too!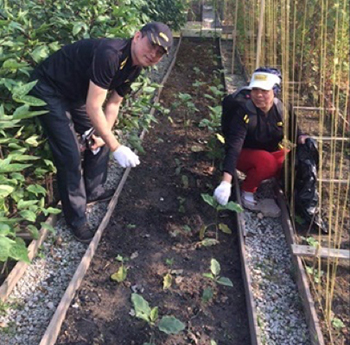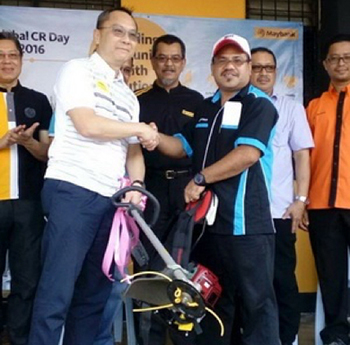 MAYBANK CAMBODIA: Doing Our Part in Empowering Children through Education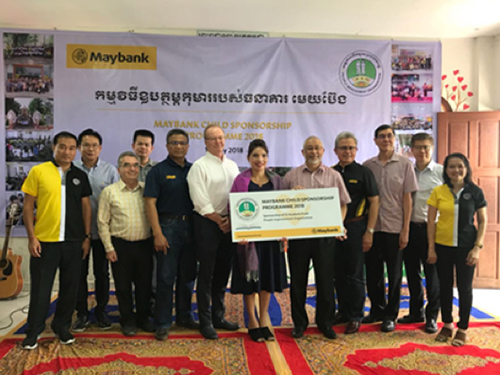 Childhood is a critical time; a time to explore, a time to learn without a care in the world. However, for some children in Cambodia, poverty forces children to forgo school to support their families' most basic needs. Some families cannot afford the cost of sending their children to school. And they believe, the time that their children would spend in class translates to lost time that the children could be contributing to the family income. Thus, labour is an everyday reality for around 45% of children age 5 to 14 in Cambodia. It is estimated that more than 300,000 children are required to work, keeping them out of school and disrupting their education*. In partnership with People Improvement Organisation (PIO), a local non-governmental organisation, Maybank Cambodia worked to strengthen and support PIO to provide quality learning and ensure the children's talents are nurtured.
WHAT WE DID:
A monthly fund-allocation to cover basic food and school support (since 2012). Special monthly engagement sessions, where our colleagues acted as mentors and tutors on a variety of subjects and skills, ranging from Goal-Setting, Reading Habits, Anger & Conflict Management, Needs & Wants, Healthy Living, Family Well-being, Social Networks, Problem-Solving, Community and Environment, Financial Literacy, English, etc. Giving the children the opportunity to just be kids; exposing them to exploration activities, and games.
WHAT WAS THE IMPACT TO THE CHILDREN:
With such active involvement of Maybank employees, these sponsored children were reported to have shown improvement in their class performance, self-confidence, self-esteem, public presentations and social communications, their command of the English language and commitment on their future careers. They influenced their less-educated family members and looked to improve their families' lives. A number of students have grown from the programme, and have taken on the role as teachers for the younger students. Such strong long-term involvement with the children have brought about deep-rooted and lasting impact resulting from the various interventions executed.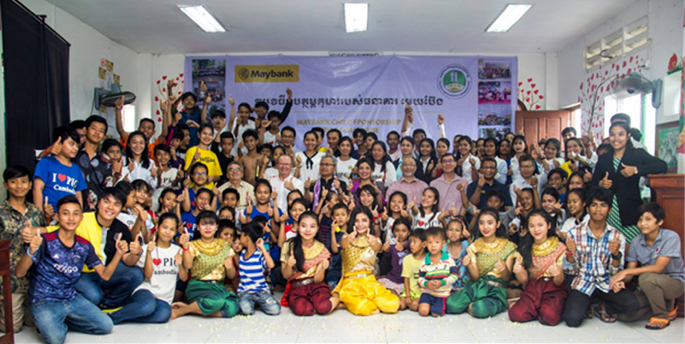 WHAT WE TOOK-AWAY:
These children, from poor families, had more to look forward to, role models, or people to look up to; people who could mentor them, or tutor them and help them to cross the poverty line and get out of it through proper education. Our Maybank volunteers served as the role models that they needed, helping them to be motivated, focused and excited about education. Our Maybank volunteers embraced three different roles ―as Life Coach, Educator and Confidant. Their involvement with these children allowed them to be more creative, to take on the role as leaders and role models. It helped them step out of their day-to-day jobs and get a new perspective; a sense of fulfilment, the importance of community and of finding the time out of their busy schedules to help others around them.
"The engagement sessions helped to keep the children at school, avoiding the problem of dropping-out, to work for their families. It helped them to keep going because they saw real people, a real work environment and they had the chance to do things that may have once-upon-a-time seemed unachievable."
John Thompson, Project Supervisor at PIO
MAYBANK GROUP TECHNOLOGY's 'Run for Life' event
Maybank's Group Technology (GT) division has been involved in many initiatives focused on supporting children. One of their efforts include providing a support network for Parents & Guardians of children with Down Syndrome. In that process, GT wanted to raise the local community's awareness as well as acceptance of children with Down Syndrome. In addition to their work with these children, they also engaged with the Paediatric Ward of Pusat Perubatan Universiti Malaya (PPUM), which included children with cancer.
To raise local awareness, the team organised a 'Run for Life' event during Global CR Day 2017 at FRIM Kepong. Both Maybankers and their families, not forgetting their beneficiary, Orkids Home, participated in the event and raised RM20, 410.00. The funds raised were utilised to build an emergency staircase at the home, installation of a few air-conditioning units, and the balance of funds to be utilised in 2017 for the children's basic necessities such as tables and chairs.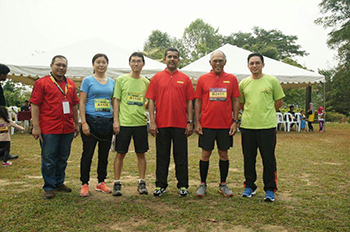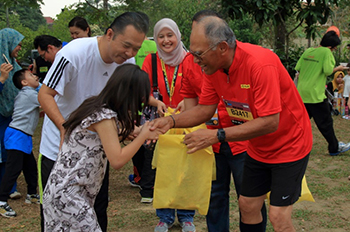 Besides that, the team also collected RM1,056.00 during their Charity Sale at Menara Maybank for PPUM. The funds were used to buy 20 units of sleeping chairs to be utilised by the parents at the ward.
Follow us in our journey to change lives locally and globally
Be the first with updates of our latest initiatives
For more information, contact Aiidir Putera
This email address is being protected from spambots. You need JavaScript enabled to view it.
+6012-6074909