Domino Impact of RISE Training; Personal Success Leading to Employment for Disabled Community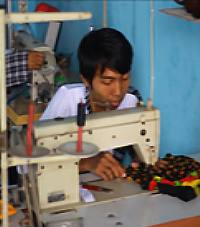 Full Name: Santoso
Country: Indonesia
Location: Yogyakarta
Batch No.: Pilot, Batch 4
Date Trained: 10 - 12 August 2016
Disability: Muscular Distrophy
Business: Tailoring
Average Monthly Income Before: IDR 1,500,000
Average Monthly Income After: IDR 5,000,000
Santoso is the youngest son of 6 siblings in Solo. He was a happy and healthy child back then, and it was not until his secondary school that he got sick and was given a wrong medical dosage for an illness that augmented the symptoms of his muscular dystrophy. Feeling cheated and disappointed with his fate, he hid at home for the subsequent 9 years of his life. It was his family that pulled him out of his depression, and encouraged him to join a disabled-community in Solo. That was when he managed to come to terms with his condition, and focus on the silver lining of still having his supportive family by his side. With these positive surroundings, he developed a sense of confidence, and had a noble thought of one day giving back to the PWD community that gave him a second chance at life.
Finding a job had been an exhausting process for Santoso. For 5 long years he failed to convince people of his capabilities and get them to see beyond his physical limitations. It was not until 2011, that he was hired as a labourer for a small shop in Jakarta. All the while, he failed to send money to his family due to the small wage he was receiving. He did not dare to contact his family, fearing they would be worried about his living conditions and financial situation. He was employed, and independent, but he still felt beaten and defeated.
By the end of 2015, he decided to start his own tailoring business. He was completely lost on how to run his business, at least until he joined the Maybank RISE training. Soon after he completed the training, applying the concepts of blue ocean and innovation learnt, he focused on tailoring wedding attires, something that was unique and not available within his area. He stopped following others, and started to create his own signature designs and novelty products that received tremendous response from customers. The demand for his products grew higher and higher, and orders from other cities started to come in. He was ecstatic, overwhelmed, and most of all he was proud.
With his current income, he could slowly fulfill his dream from the beginning, which was to give-back to his family and to the disabled-community. One of his proudest moments in life was when he became a role model to his nephew. He taught his nephew all about sewing, and on how to run a business. Santoso even managed to sponsor his nephew to pursue education at a design school in Yogyakarta. He remembered the feeling of pride and dignity when he dropped his nephew off at school. His nephew just recently got married and not only successfully opened his own boutique but credited all this to his inspiring uncle, Santoso.
His long yearning to give financial support to his parents had finally come true now that he managed to consistently send money to his parents in Solo. It was just recently, when he visited his parents when they wholeheartedly patted his back and said "You did well, son". Santoso clearly saw how proud his parents were, and at that very moment he felt deeply blessed.
The impact of his success goes beyond his family. One of his proudest moments is when managed to employ and train 4 of his disabled friends to help him with his business. 2 of these friends now have gone on to open their own stores, and regularly contact Santoso for his advice and guidance. His life has not been an easy journey, but he triumphed and overcame all his challenges with such grace. He still employs two members of the PWD community to help him fulfill orders. He often cites the impact of the Maybank Foundation R.I.S.E programme as one of the key the starting and turning points of his life.