Bejeweling Community through RISE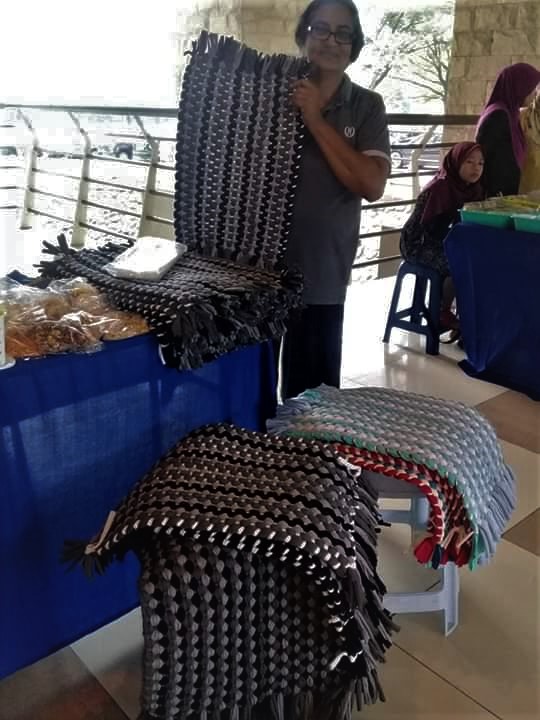 Name : SARASWATHY A/P RAJOO
Batch : R13, Johor Bharu, Phase 3
Date Trained : 28 – 30 Sept 2018
Disability : Physically disable due to accident
Business : Sells Homemade Door Mat and Jewellery
Income Before : RM 800
Income After : RM 3,800
Participant of Maybank R.I.S.E. Programme
Created job opportunity for other single mothers to work with her.
Saraswathy is a widow with 4 children. Due to an accident in the year 2000, she lost her right leg and got a metal plate implanted in her left leg. Ever since then, she was always conscious of her disability and she faced difficulty in finding a job to provide for the family.
Despite her challenges, Saraswathy opened a tailoring business from home. She'd sell handmade door mats and accessories. Although the income was small, it was just enough to provide the basic needs of her family. With the well-being of her children in mind, Saraswathy was determined to succeed in her business. That was when she got the invite to attend the RISE training program.
After the training, Saraswathy became motivated and inspired to succeed in her business. She wanted to be able to provide a better quality of life for her children as well as quality education. Using the Customer Analysis module, she immediately implemented the learnings she gained by targeting big customers such as supermarkets and NGO's to sell her products. This gave her a significant increase in steady income on top of the orders she gets from her regular customers.
Due to her growing success, Saraswathy was commissioned by JEIWA Powerhouse (Johor Empowerment of Intellectual Women Association) to design souvenirs for their upcoming event. Unfortunately, it was also during that time when her son had passed away. Despite that, she worked hard to deal with the pain of losing her son and continued her business from home.
In recognition of her work, SSM (Suruhanjaya Syarikat Malaysia) gave her an automatic embroidery machine and this has boosted her business now that she's able to receive orders for home-made door mats from large organizations such as government agencies.
Thanks to her new-found success, Saraswathy never forgets her roots and started providing jobs to the underprivileged community so that they can earn to provide for their family. She also collaborates with other participants from the RISE program who are also disabled, by opening a booth at a hypermarket and sell their products together. Saraswathy never thought she's become a successful businesswoman until the RISE program helped realize her full potential as an entrepreneur.