Art & Soul: Sivan's Story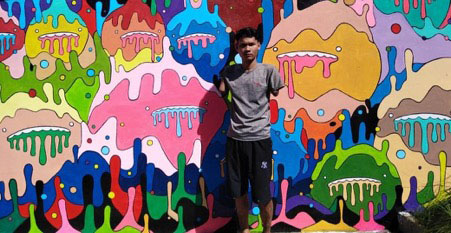 Sivan Sibounheuang of Vientiane, Laos, has always had a passion for drawing and painting. In between helping his parents earn some money for the family, Sivan can be seen doodling on paper scraps. When a tragic accident left him with severe burns and the loss of both arms, it was a devastating blow to his dreams of becoming a painter. His disability, paired with a lack of education made finding a job challenging.
Isolated and dejected, his parents encouraged him to take up drawing and painting again as a way to fill in the time. What once came naturally was now riddled with challenges. Sivan took to YouTube to learn how to draw using his feet. His movements, slow at first, gradually became fluid and controlled. Sivan has found his life's work but now, he had to make other people see the potential in him and his abilities.
Then Sivan found out about R.I.S.E - the programme he credits with helping to set him on a clear path. Lessons from the training gave him the confidence to start a painting business. For example, Sivan learned the importance of social media in business via the Sales Strategy module. He began to advertise his service on Facebook, where there was a wider audience reach and the ability to engage directly with potential customers. Slowly but surely, Sivan started to receive orders from customers both in and out of Vientiane. But then, COVID-19 tightened its grip on Laos and his life was once again upended.
This time, instead of waiting for customers to come to him, he provided door-to-door service for those who wanted to hire him on the spot. As people retreated inside their homes, Sivan was outside busy painting away. With the skills and knowledge gained from the R.I.S.E programme, he is able to set aside some extra money, an opportunity that he is grateful for. Today, Sivan is completely content with his life as an artist. It fills him with joy knowing that his artworks are now plastered on the walls of cafes across Laos.