The Strength To Succeed: One Woman's Story Of Resilience And Courage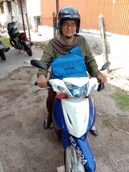 As a single mother to 5 small children, Salbiah Abdul Hamid was in a constant state of fear whether she would be able to take care of her family. She was barely keeping her head above water as it is when things took a turn for the worse and she was diagnosed with spinal injury following years of domestic violence. The potential complications from the surgery stopped her from going through with it seeing that she has her children to think of.
With no spousal support to help start her new life, she took a leap of faith and moved to Kuala Lumpur from Perak in search of better opportunities. In hindsight, Salbiah admits that as a single mother with zero professional experience, the move to the city was rushed and not very well planned. The high cost of living in Kuala Lumpur forced Salbiah to take up whatever odd jobs she could get, from washing dishes in a restaurant to selling 'Rempeyek', a deep-fried savoury cracker, from her home.
Not long after that, Salbiah relocated the family to Malacca and rented a small room. There, she found a job as a janitor and was making RM500 a month, a sum barely enough to cover the family's expenses. At night, she donned on her security outfit and went to work until the early morning hours. In addition, she would also sell 'Rempeyek' at her workplace to supplement her measly income. Due to the prolonged stress on her spine, she had to give up both jobs as her mobility was severely impacted.
Left with the possibility of a dead-end business, Salbiah took action and enrolled in the R.I.S.E. programme. The entrepreneurial training has helped her to understand business concepts that were once foreign and confusing. A module on "Profiling" taught her to identify suitable business ideas by analysing one's skills, market demands and passion. With guidance from her mentor, Salbiah capitalised on her cooking skills and started selling meals to friends and relatives. The encouraging response she received gave her the confidence to continue the business.
During the Movement Control Order (MCO), Salbiah sold packaged meals to hospital staff working long hours amid the COVID-19 pandemic. With the knowledge gained from R.I.S.E., Salbiah revisited her business plan in order to better meet customers' needs. Among the improvements she had to make was offering food delivery service as people remained inside their homes. Now that she has a strong grasp on business concepts, she made sure she was on top of her budget, delivery schedules and social media marketing. Ultimately, these changes took her meal business to new heights.
In fact, Salbiah's business was doing so well during the MCO that she could finally pay off her debts, a dream she thought was beyond achievable for people like her. Not only that, but she also managed to lend out money to friends who were struggling to stay afloat during the pandemic. Today, she runs a night stall with her friends selling Char Kuey Teow. Now that her children are grown and can sustain themselves, she can afford to buy nice things for herself instead of worrying where the next meal is coming from like in the early days.