Overcoming Obstacles and Adversity in Life: Uncle Kim's Story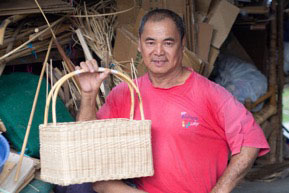 Ng Kim Loong, affectionately known as "Uncle Kim", contracted polio when he was 3 years old and was left paralysed from the hips down. Despite that, he never saw it as a disability, due in part to his friends and family treating him as an equal growing up. Unable to find permanent work, Uncle Kim worked odd jobs as a tailor, craftsman, and even had a stint as a florist to make ends meet.
Regardless of his vast experience, he was still regularly subjected to the same discrimination, which made earning a living difficult. With the little savings he had saved over the years, Uncle Kim decided to take the plunge and start a rattan business from his home. Initially, it was hard to get customers to look past his disability, but this setback only spurred his resolve to prove them wrong. Soon, the orders started coming in which provided him with a sustainable income.
Fast forward 30 years, Uncle Kim's business grew stagnant as demands and sales of rattan products were lacklustre. After hearing about the R.I.S.E. programme, Uncle Kim was thrilled to discover that it is designed specifically for entrepreneurs from the Persons with Disabilities (PwDs) and marginalised communities. He went and got himself enrolled immediately.
Uncle Kim credits R.I.S.E. with boosting his mindset for success and helping him wade through his business concerns. He also felt that R.I.S.E. reinvigorated his fading enthusiasm for work and taught him to focus on what really mattered, providing a better life for his family.
In one of the lessons, he learned the important skill of negotiation. One of the issues that Uncle Kim struggled with was his giving into customers when they asked for a lower price for fear of losing them to another seller, leaving his business either unprofitable or barely making any money. These days, he knows how to negotiate without overstepping his limit. A win-win situation, where Uncle Kim can preserve not only his own interests, but possibly build a long-lasting customer relationship as well.
With the increase in sales and profits, Uncle Kim was able to put his children through universities, which he revealed was one of his most rewarding accomplishments. Today, Uncle Kim is able to bring in a stable income and continues to make every rattan craft by hand for his regular customers.