From Struggle To Success: Hazellina's Story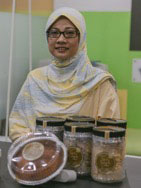 Hazellina is no stranger to hardship. In the early months following her divorce, stress and fear trailed her like a shadow, constantly reminding her of her financial fragility. As a partially deaf single mother, she worked long hours as a masseuse to support her 5 children. In 2017, Hazellina took the jump and ventured into a mobile spa business to make ends meet. The pay wasn't much, but it was enough to get by and take care of the living expenses.
Hazellina was already living paycheck to paycheck when COVID-19 struck. The government imposed Movement Control Order (MCO) made finding customers and entering their homes impossible, forcing her to close her business for months. Jobless and without a stable income, all those fears years earlier came rushing back. The thought of having to choose between paying rent or buying her children food kept her awake on most nights.
The switch to selling baked goods during the pandemic barely made a difference as she lacked sales skills and was clueless about social media. As a result, Hazellina's home-based business struggled to survive amid competition and a tepid economy. Living off a measly RM100 a month was not sustainable in the long run and soon, she fell behind on her bills.
When Hazellina heard about the R.I.S.E. programme, she was excited about the prospect of a promising future for her and her family. Hazellina enjoyed the training, not only for the entrepreneurial skills she was learning, but also because it helped her to further conceptualise her business ideas.
Mastering the art of social media engagement was a learning curve for Hazellina, who said she has been paying more attention to her captions and what she posts on platforms. Following the advice of her mentor to "think from a customer's perspective", Hazellina's Facebook page and WhatsApp started to flood with orders from customers. With the guidance of her mentor, she got onto various e-commerce platforms such as Sama-Sama Lokal to further promote her fledgling business.
Life has drastically improved since then, sales of her baked goods are steadily increasing and as the country slowly transitions into the new normal, Hazellina is excited about the idea of restarting her mobile spa. To Hazellina, the R.I.S.E. programme was much more than an entrepreneurship programme. It has given her the boost that she needed and the skills necessary to start a brand new chapter of life.