Disaster Relief
We are committed to providing humanitarian aid in our disaster-prone region and support communities in rebuilding their lives. Our employees have shown great compassion by volunteering their time and money when disasters strike.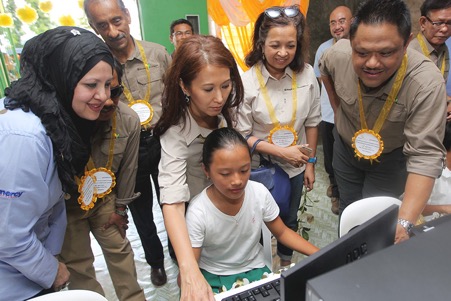 Maybank and Maybank Foundation have supported disaster relief efforts across the region, often aiding the ASEAN communities to recover from the impacts of typhoons and floods in the Philippines, Indonesia and Malaysia.
We have collaborated with several NGOs in rebuilding communities and their livelihoods in affected areas around Southeast Asia. One of the contributions that were highlighted would be the assistance that the Foundation has provided to the Typhoon Hagupit victims in the Philippines.
We have built a strong alliance with MERCY Malaysia. From 2014 until 2016, the Foundation provided an annual contribution of RM1 million as part of our 3-year partnership. The partnership was focused on disaster response, rebuilding efforts (post-disaster), and risk education programmes. Funding was used for the deployment of emergency responses, medical supplies purchases, and developing Disaster Risk Reduction (DRR) preparedness programmes.
In 2014, we have provided support on the following initiative:
Emergency Response for the Malaysian East Coast Flood in Kelantan.
In 2015, we have provided funding for the following initiatives:
Emergency Response for Super Typhoon Haiyan in Leyte Island, Philippines.
Rehabilitation and Rebuilding of Nasunogan Elementary School, Philippines.
In 2016, we have collaborated with MERCY Malaysia on the following initiatives:
Community Based Disaster Risk Management (CBDRM) in Kelantan.
Community Based Disaster Risk Management (CBDRM) in Karo Regency, North Sumatera.
School Preparedness Programme in Karo Regency, North Sumatera.
Resilient Health Infrastructure at Rumah Sakit Umum Kabajahe, Karo, North Sumatera.
Community Based Disaster Risk Management (CBDRM) in Ormoc City, Philippines.
Post Flood Recovery Programme in Kelantan.
Capacity Building for Oral Rehydration Therapy Corner at Angkor Hospital for Children.
Emergency Response of Aceh Pidie Earthquake
Improving community health and IDP Camps' WASH facilities at Jambur Korpri, karo, North Sumatera.
Provision of latrines for flood affected communities in Sakhangyi Area, Kale Township, Sagaing Region.
At the completion of the 'Partnership for Humanity' in 2016, we have embarked on a new Disaster Relief Framework in 2017. The execution of the programme and ensuing funding is premised on activities in 2 core areas:
Focus of work will be on providing emergency response for disasters and rebuilding.
Focus of areas in countries where Maybank has a presence, particularly ASEAN.
Under this new framework, Maybank Foundation adopted Open Platform Basis, where implementation of the partners will not be restricted to MERCY Malaysia but will be opened to local NGOs and/or other international NGOs.
As part of the new framework, we will have a mechanism that allows the Management to make timely decisions on which disaster to respond to.
In 2017, we responded to two disasters:
Distribution of hygiene kits, cleaning kits, blankets and rubber mats and helped of cleaning medical facilities and schools amounting to RM150,000 during the flood in northern region of Malaysia.
Provided emergency relief for Leyte Earthquake in Philippines amounting to RM150,000 in form of temporary shelters and food distribution.
In 2018, we have funded the emergency response for four disasters:
Distribution of 280 hygiene kits and 170 boxes of drinking water amounting to RM50,000 during the flood in Pahang.
Provided emergency relief for Laos flood amounting to RM200,000 in the form of medicines, mosquito nets and hygiene kits.
Provided emergency relief for Lombok earthquake amounting to RM100,000 in the form of temporary shelters, hygiene kits and blankets.
Distribution of medicines and medical supplies amounting to RM100,000 during the earthquake in Sulawesi.
In 2020, we responded to the world pandemic emergency and funded an emergency response for a disaster:
Earlier this year, the spread of COVID-19 pandemic in Malaysia forced the implementation of Movement Control Order (MCO). Pursuant to this, as part of Maybank Group's contribution to MERCY Malaysia's COVID-19 Pandemic Fund, we contributed RM300,000 to help fight COVID-19.
In August, the city of Lebanon was shocked with the explosion due to the large amount of ammonium nitrate stored in its port, causing at least 204 deaths. 6,500 injured and more than USD15 billion in damages. As such, Maybank Foundation contributed USD10,000 to its partner, MERCY Malaysia to assist with the disaster relief efforts resulting from the explosion.