KataKatha
Southeast Asian Conversations on Culture & The Arts
CONTEXT
One of the key aims of this initiative is to celebrate the cultural similarities as well as differences of the ASEAN community. With this in mind, we strive to seek out artistic leaders from Singapore, Malaysia, Indonesia, Thailand, and the Philippines to embrace KataKatha and "chat," about "Shared History, Shared Culture, and Shared Traditions."
The KataKatha initiative will weave a narrative through the perspectives and experiences of a collective of writers, filmmakers, poets, artists, architects, and other artistically-inclined leaders throughout the ASEAN region.
As a Maybank Kim Eng initiative, supported by Maybank Foundation, the programme aims to be an exploration of ASEAN arts and culture through meaningful conversations and creative artwork both visually and otherwise.
THE NAME
The term KataKatha combines the modern spelling of kata and the traditional spelling of katha. The word kata or katha is a term that is common to all 5 countries participating in the Southeast Asian Cultural Conversations – Malaysia, Singapore, Indonesia, Thailand and the Philippines. Kata or katha means to speak, to say, words (Malay, Indonesian); to converse or to chat, 'we' or 'the two of us' (Tagalog); a saying, a chant (Thai). It is rooted in the Sanksrit word, katha – a term that means epic, story, narrative, topic, talks, discussion and message. Besides encapsulating the essence and identity of the project, KataKatha is also phonetically very representative of Southeast Asian languages, in cadence, tone and expression. The juxtaposition of modern and traditional spellings also embodies the main message of the project: "Encountering our history, imagining our future."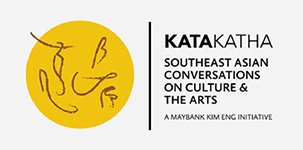 THE LOGO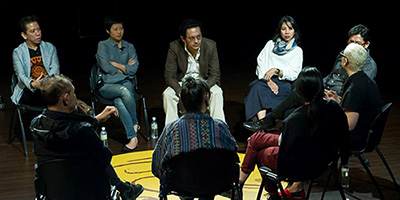 The logo for KataKatha - Southeast Asian Cultural Conversations Series reflects the inter-connectedness of Southeast Asia, a region blessed with cultural commonalities and diversity. The circle symbolises the organic unity of the region and cyclical nature of history and culture. The calligraphic strokes are inspired by an ancient Southeast Asian script (Baybayin), and are used here to trace a map of Southeast Asia. This calligraphic map embodies the way in which culture has shaped and left its mark on Southeast Asian societies and people. By taking a modern calligraphic approach to an ancient script, the logo embraces history while looking boldly into the future. The logo incorporates Maybank's corporate colour to ensure an immediate association with Maybank and strong branding identity.
STRATEGY
To create a meaningful interaction and dialogue among established and emerging regional practitioners of culture and the arts while exploring shared experiences that enhance a common Southeast Asian artistic, cultural and intellectual experience;
A platform for the exploration of cultural commonalities through arts, rooted in the perspective of a shared regional history;
To serve as a catalyst for a sustained deliberation of ideas and themes relating to Southeast Asian public and cultural life;
To document, institutionalise and create an archive of creative thought and work that encompasses the region as a means of consolidating a regional cultural identity.
OUTCOMES
Enhanced awareness and understanding of a shared cultural history through the arts, especially among the younger generation
Elevated appreciation for and development of Southeast Asian arts and culture.
To inspire and help create a regional pipeline for talent in the arts.
Serves as a pioneering effort to create a sustained dialogue between Southeast Asia's leading creative minds and figures about the role and purpose of the creative life.
PROGRAM PARTNER